Semester two has just begun, and it may feel like it's too soon for another break. However, March Break is coming up - it's only two and a half weeks away! It might be time to start planning your March Break experience. If you're not going on vacation and you are contemplating what to do during the break, this article will give you a few ideas for fun, relatively close by, things that you may want to try.
Visit iFly Indoor Skydiving.
Now, this list isn't in order from best to worst, but I can say without a doubt that iFly Indoor Skydiving is
the
best March Break activity. It sounds scary - skydiving? Indoors? When I first tried it, I thought it would be terrifying. But it's really almost nothing like you'd expect skydiving to be.
A peek at the inside of iFly.
When you go in, you have to put on a special suit, helmet, and goggles to protect from the wind. The actual skydiving part is really a clear tube with a grille at the bottom that air shoots out of. After a quick lesson on proper form while "skydiving", you get into the tube with an instructor who helps you adjust your form during the experience. If you want to learn more, check out their website:
http://www.iflytoronto.com/
If you're scared of heights - as I am - you have nothing to worry about! You aren't looking down at the ground thousands of metres below you as you fly, unlike actual skydiving. You're just floating, with the ground in easy reach. It's an amazing thing to do, and I would recommend it to both those who fear heights and thrill seekers alike!
Attend a Workshop at a Community Centre.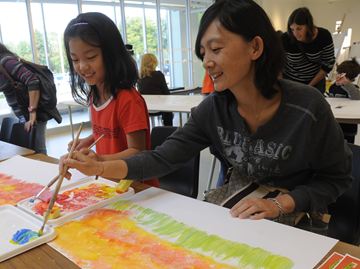 Art at QEPCCC.
They may seem like boring, little-kid things, but there are many workshops around town that are aimed specifically at teens and are lots of fun. One of the best places for these kind of activities is Queen Elizabeth Park Community Centre. From a three-day animation workshop to a graphic design class to a place to record your own song, QEPCCC has it all! To find out more, go to
http://www.oakville.ca/culturerec/march-break-camps.html
and click the dropdown Studio Art camps and workshops at QEPCCC.
In addition to workshops at community centres, there's also things like swimming, libraries and fitness centres. These all make great March Break activities - especially since a fitness membership for students (14-18) is 35% off.
Check out the Joshua Creek Heritage Art Centre.
Okay, so maybe art museums aren't really your thing. But the Joshua Creek Heritage Art Centre is really one of a kind. The owner, Sybil Rampen, has collected tapestries and different types of art from all over the world, most personally collected by her or her aunt. It's really beautiful to see, in a way that big art museums aren't - the Centre is relatively small, located inside a house in the country off of Burnhamthorpe Road. One of its charms is that there's rarely more than a few people there.
A previous art exhibit.
In addition to the exhibits indoors, there are a few other things to look into should you go there. One is the outdoor labyrinth made of corn plants. On a sunny day, it's one of my favourite things to do while I'm there. Another is art lessons and lectures by artists. If you are interested in any form of art, from woodworking to graphic design, chances are there is a class you can take here. Be sure to look into them should you go there, or visit their website at
http://www.joshuacreekarts.com/
.
Feed chickadees at the Riverwood Conservancy.
Feeding the chickadees at the
conservancy.
Though I've never been here myself, I have heard from a friend who has been there and loved it. For all nature lovers out there - this is what you'll want to do over the break! There are beautiful trails, perfect whether you're interested in seeing wildlife (like the chickadees) or simply walking and enjoying the scenery. In addition to these, there are workshops - much like the Joshua Creek Heritage Arts Centre - and opportunities to volunteer, should you need to fulfill your 40-hour requirement. Be sure to check their website at
http://www.theriverwoodconservancy.org/
!
It's important to note that the Riverwood Conservancy is located in Mississauga, so it's a bit farther away than other places on this list. However, it's still a great chance to get outside and do some fun stuff.
Try out a Maple Syrup Festival.
Maybe you're too old for the play barns and games. That doesn't mean maple syrup festivals can't be fun! There are usually trails to walk on, food to eat, and things to learn around the festivals, and if you have a younger sibling or cousin, this will keep them amused for hours. Not to mention the maple sugar tastes
amazing.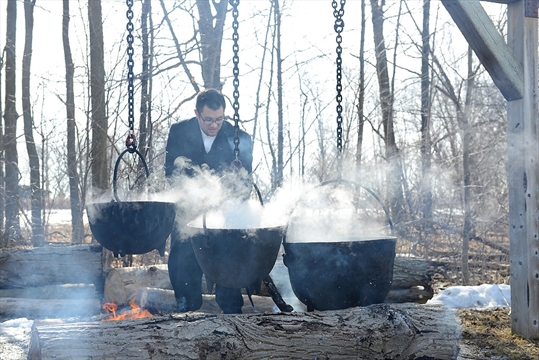 Boiling sap into syrup.
Like Riverwood, this is a way to get outdoors and maybe try something new. If you've gone before and it's starting to get boring, try asking the people from the festival questions about what they do, or about the history of maple syrup. I can bet you'll learn at least two new things this way.
The two best ones I've gone to are the one at Bronte and the Mountsberg festival, and they're also the two closest to Oakville. However, if you're looking for a day trip or an overnight stay, there is a festival in Muskoka that seems to be fun. Maple syrup festivals are a true March Break experience and are entertaining for all ages.
March Break may seem like a long, boring week of doing nothing, but it doesn't have to be. It's the perfect time to get out and explore the many places our community has to offer. This list is just a starting point - it's impossible to cover every activity in one article. So make sure to keep looking for opportunities to try new things and stay entertained, and you'll never feel bored over the break again!